Make IT infrastructures robust, scalable, resilient and fast
We support tour clients in the Cloud adoption path, following the client step by step from the creation to his infrastructure evolution.
We perform discovery or infrastructure assessment activities to propose the best solution to adopt the cloud, evaluating the scenario, the client's goals and costs.
We design and implement Cloud Native and Cloud Migration projects, using AWS services to make applications more performant, scalable and secure. We provide our expertise in DevOps and Machine Learning to make our clients' projects successful.
After a path of certifications, skills, realized projects, since 2020 we are Amazon Advanced Consulting Partner.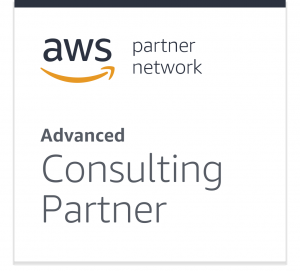 Contact us to learn more ->
Cloud native

We help our clients build the cloud infrastructure for their application development. Together with our development team, we choose the right AWS services to adopt according to the client's business goals, project timing, scalability and security requirements.
Developing a Cloud Native project means thinking from the very first moment which cloud services to use to simplify and improve the performance of the application. For this reason, our Cloud Native projects start with a discovery workshop: together with the development team and the client we design the best solution for the project needs.
Our techniques
Infrastructure As Code, Well Architected Framework, Cloud Managed Services, Application Containerization
Contact us to learn more ->
Cloud migration
Our Cloud Migration projects start with an assessment of the IT infrastructure that allows us to understand the client's current situation, whether on-premise, cloud or hybrid; together with the goals to be achieved and our expertise in AWS, allows us to propose the best solution to the client, complete with an estimate of the costs to be incurred.
Migrating to AWS cloud delivers efficiency and broad, tangible operational benefits: from reduced costs to increased speed. By using AWS services, we help companies focus more on and innovate on their core competencies. From assessment and planning, to the execution of the actual migration, AWS has the most mature tools and resources to ensure success in both migrating and performing tasks on the cloud.
Our techniques
AWS Migration Acceleration Program, AWS Migration Services, Rehosting, Replatforming, Refactoring
Contact us to learn more ->
DevOps

With our expertise in both cloud and software development, we apply a DevOps approach to our projects to make infrastructure and software management more efficient. Thanks to AWS DevOps services, we design and develop software in a fast, agile and reliable way.
We implement Continuous Deployment and Continuous Integration pipelines, to update and maintain software in an automated, fast and secure way.
We are also available to the client to transfer the skills necessary for the evolution and maintenance of the project, through consulting and coaching activities.
Our techniques
Version control, Continuous Integration, Configuration management, Deployment automation, Containers (Kubernetes, Docker), Infrastructure Orchestration, Monitoring and analytics
Contact us to learn more ->
Want to realize your project together?
We're ready to listen to your needs and goals to bring real innovation to your ecosystem.
CONTACT US